Employment Opportunities at Goethe
---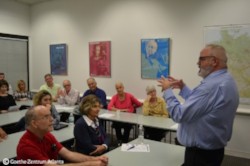 Educational Outreach Director
Job Title: Educational Outreach Director, full-time (may include weekends and evening); employment is at will
Responsibilities & Tasks
Under the direction of the Executive Director, the Educational Outreach Director is responsible for the design, financial management, and implementation of effective outreach programs.
In addition, the Educational Outreach Director plays a key role in proposing and implementing strategies for the continuing expansion of the educational outreach program.
Tasks include but are not limited to:
Educational and Community Outreach:
Organizing the Goethe-Zentrum's School and University outreach programs (including Career Days, GA Skills Road Show Participation, Immersion Days, European Day of Languages, Business-Education Summit, Student Competitions)
Serving as the liaison to the Goethe-Institut's North America outreach partners (Bildungskooperation Deutsch) and facilitating Goethe-Institut's national outreach programs in the Southeast
Volunteer Program
Responsible for the Goethe-Zentrum Atlanta's local volunteer program
Recruiting, managing and supervising all Goethe-Zentrum's event volunteers and US interns
Growth and Strategy
Actively proposing educational outreach programs and policies which will enhance the Goethe-Zentrum brand in the educational community and lead to increased community impact.
Networking with the education community
Team effort
Actively participating in team meetings
Participating in maintaining a clean work environment
Assisting others in the team when needed
Participating at Goethe-Zentrum cultural programs (may include weekends and evening)
Other
Organizing the annual European Wine Tasting together with the Communications Manager
Assisting with all Goethe-Zentrum programs, including, but not limited to, cultural program and fundraising programs
Ensuring smooth running of all Goethe-Zentrum communication and marketing efforts during absence of Communications Manager
Quarterly reporting
Qualifications & Experience
The ideal candidate has prior experience in educational outreach. He/She understands the demands of and thrives in a nonprofit work environment. (work and/or volunteer experience in the nonprofit sector a plus) 
The ideal candidate will furthermore have experience in an office environment. He/She has the ability to multitask, to communicate effectively both in writing and orally and to work with diverse groups of people.
 Fluent or proficient in English (native or near-native) and intermediate level of German (full proficiency in German a plus)
Bachelor's Degree
Strong interest in and knowledge of the educational system of the United States and German language and culture
Experience in grant writing, grant reporting and budgeting
Organization
The primary focus of the Goethe-Zentrum Atlanta, a nonprofit organization, is to foster cultural relationships between German-speaking and American people and to facilitate and present projects of national and international scope to promote a better understanding of German culture, language and society within the larger context of European life.
How to Apply
Send cover letter and resume to Miriam Bruns, via e-mail: director@german-institute.org.
---
German Teachers
Wir suchen engagierte, dynamische und kompetente Lehrkräfte für unsere Deutschkurse am Goethe-Zentrum Atlanta. Unsere Kurse finden überwiegend abends und am Wochenende statt, wir bieten vornehmlich Erwachsenenkurse (Einzel- und Gruppenunterricht), aber auch Kinder- und Jugendkurse an.
Einstellungsvoraussetzungen / Lehrerqualifikation
Muttersprache Deutsch (oder gleichwertige deutsche Sprachkenntnisse)
fachbezogener Hochschulabschluss, vorzugsweise DaF und/oder Germanistik, ggfs. andere fremdsprachliche Philologie
mehrjährige DaF-Lehrerfahrung, vorzugsweise im Erwachsenenbereich
US-Arbeitserlaubnis (per Green Card oder US-Staatsbürgerschaft)
Bereitschaft zur regelmäßigen Teilnahme an den Lehrertreffen
Unter besonderen Umständen sind – nach Ermessen der Sprachleitung – Ausnahmen zu den oben genannten Anforderungen möglich. 
Einarbeitung / Hospitationsphase und Lehrprobe
Hospitation von mindestens sechs Kurstreffen auf zwei verschiedenen Kursstufen bei zwei verschiedenen Lehrkräften im Laufe eines Unterrichtsquartals (Winter, Frühjahr, Sommer oder Herbst)
Durchführung und bestehen einer Probestunde (mit Vor- und Nachbesprechung) 
Neue Lehrkräfte werden zunächst vorzugsweise in allgemeinsprachlichen Standardkursen der Niveaus A 2 und B 1 eingesetzt. 
Bitte senden Sie Ihre Bewerbungsunterlagen an:

Miriam Bruns
Executive Director 
Goethe-Zentrum / German Cultural Center Atlanta 
1197 Peachtree Street, NE 
Colony Square, Plaza Level 
Atlanta, GA 30361-2401 
Tel.: 404.892.2388 
Fax: 404.875.0475 
Email: miriam.bruns@german-institute.org