Event Calendar
Goethe Geburtstag Picknick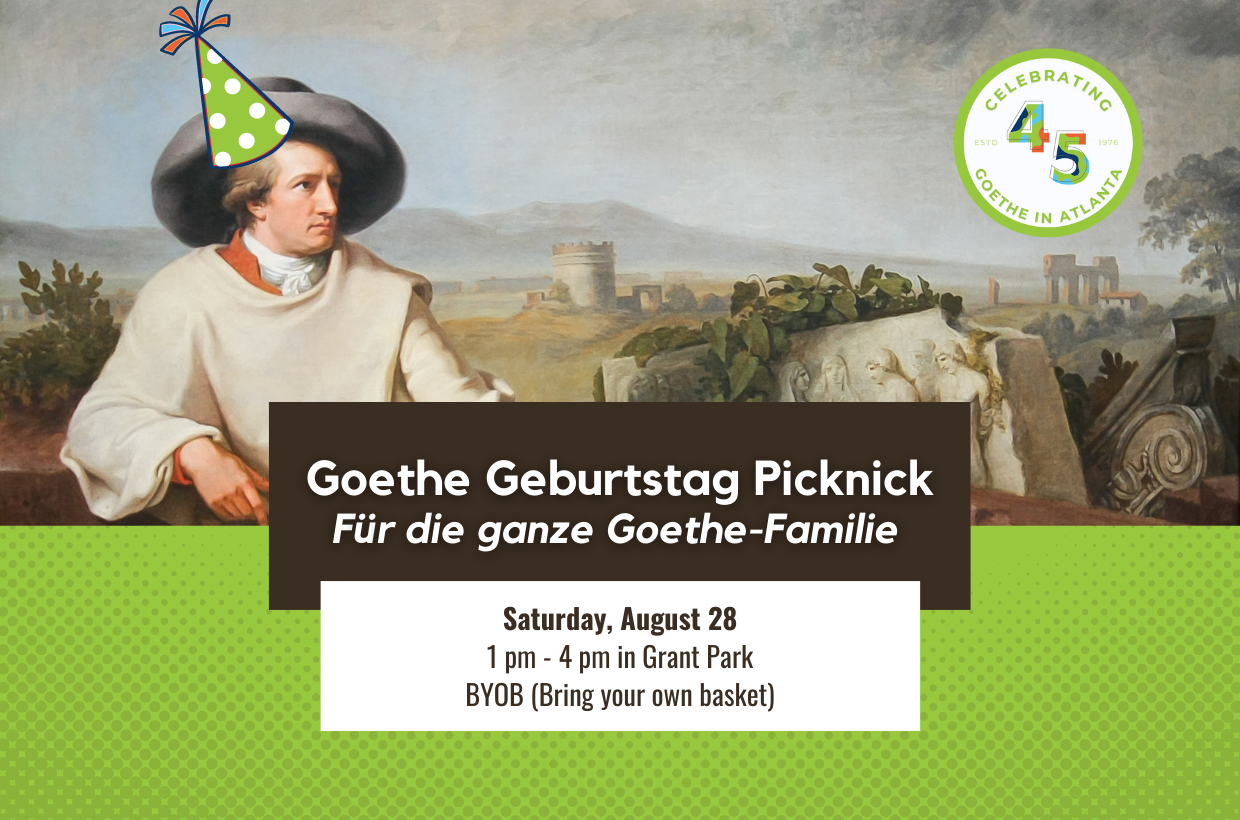 "Aber kein Genuss ist vorübergehend, denn der Eindruck, den er hinterlässt, ist bleibend." (No enjoyment is temporary as the impression it leaves is everlasting.) - J. W. v. Goethe
Happy birthday to us!
Wir feiern 45 Jahre Goethe in Atlanta – am 272. Geburtstag unseres Namensgebers, geboren am 28. August 1749. We're celebrating 45 years of Goethe in Atlanta – on the 272nd birthday of our namesake, born on August 28th, 1749.
Our organization was first established in 1976 as a branch of Germany's Goethe-Institut, the premier German culture and language organization, and after the German government withdrew its monetary support from our location, we were incorporated as a non-profit known as the Goethe-Zentrum Atlanta. We continue to proudly serve as the preeminent non-profit source for German language instruction, heritage and cultural exposure in the southeastern United States.
After so many months in the virtual space, we are eager to follow Goethe the poet's example, and enjoy nature together with you, your family, your loved ones, your friends, and your dogs.
We will rejoice in the shades of a beautiful pavilion in Grant Park and under the trees, we will enjoy German music, Brezeln, and good conversation. We will hear Goethe quotes and listen to anecdotes of 45 years Goethe in Atlanta. There will be soccer balls and a Torwand competition, and the opportunity for our students and members to share their personal experiences with Goethe in the last 45 years!
More than anything, we hope you agree it is time to bring the Goethe-Familie back together.
Due to health and safety concerns, we ask that each party bring their own picnic basket with food and beverages. While there will be a pavilion with picnic tables, space will be limited so we also encourage you to bring a blanket or camping chairs to sit on the grass if seating is not available at the tables.
The event is free to attend, but registration is requested in advance.
We hope to see you there and look forward to celebrating Goethe (the man's) and Goethe in Atlanta's birthday with you! Because: "Nothing should be treasured more highly than the value of the day." (Nichts ist höher zu schätzen als der Wert des Tages.) - J. W. v. Goethe)