Event Calendar
Show Your Wound: W/ar/t Panel Discussion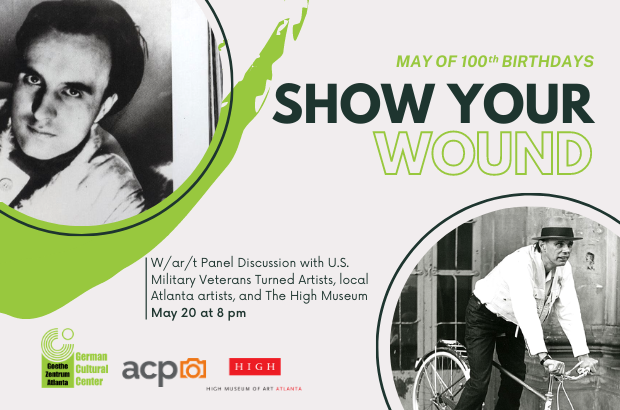 Can art heal?
Conceptual artist Joseph Beuys (12 May 1921 – 23 January 1986) and writer Wolfgang Borchert (20 May 1921 – 20 November 1947) both suffered severe trauma during World War II and processed their experiences by creating art. After a year of collectively experiencing COVID-19 and the toll it has taken on our mental health, the Goethe-Zentrum wishes to take the opportunity to ask if and how art can heal PTSD, trauma, and wounds of the mind in the broadest sense.
We have assembled a panel of accomplished artists, many of whom are veterans themselves, to help us find an answer. The virtual exhibition is available now through June 20 here: https://german-institute.org/show-your-wound-virtual-exhibition/show-your-wound-virtual-exhibition.html.
Our panelists will include:
• Anthony Torres, Combat Hippies, a group of U.S.-Army-Veterans and Performance-Artists in Miami and Puerto Rico. They process their experiences in and after combat through performance (http://www.thecombathippies.com/).
• Teri Darnell, photo artist and former US soldier in Berlin, photo project The Veterans of Foreign Wars (VFW), Board of Directors at Atlanta Celebrates Photography (https://acpinfo.org/)
• Willis, photo artist and journalist with decades in combat, creator of the "living portfolio" Traplanta (https://spaldingnixfineart.com/artist/willis-aka-traplanta)
• Claudia Einecke, Frances B. Bunzl Family Curator of European Art at the High Museum of Art (https://high.org/)
• Maria Theresa Barbist, Performance Artist and therapist (https://mariatheresabarbist.com/)
Moderators:
• Mary Stanley, President of Atlanta Celebrates Photography
• Oliver Gorf, Executive Director, Goethe-Zentrum Atlanta
This event will be 100% virtual via Zoom and is free to attend, but registration is required in advance to receive the meeting ID and password. Registration closes at event start time.