Event Calendar
Netflix Party: Unorthodox (Episodes 3 & 4)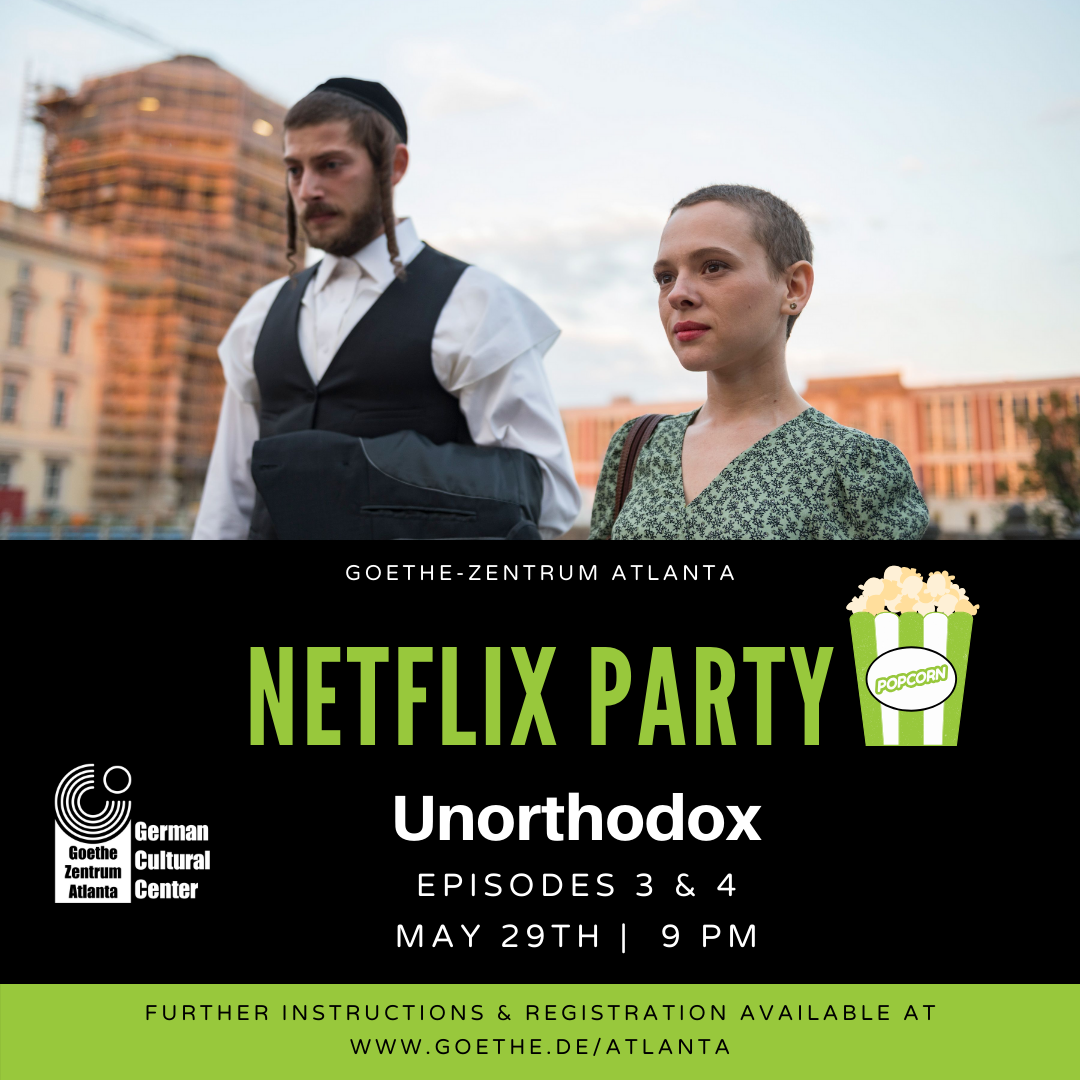 Join us in watching episodes 3 and 4 of the new Netflix series, "Unorthodox".
The program is in English with occasional dialogues in German and Yiddish (subtitled in English).
"Esty, a 19-year-old Jewish woman, is living unhappily in an arranged marriage among an ultra-Orthodox community in Williamsburg, Brooklyn, New York City. She runs away to Berlin, where her estranged mother lives, and tries to navigate a secular life, discovering life outside her community and rejecting all of the beliefs she grew up with. Her husband, who learns that she is pregnant, travels to Berlin with his cousin, by order of their rabbi, to try to find her."
To download the extension, please follow these steps:
(Be sure you're already logged in to Netflix on your device.)
1. Visit netflixparty.com in your Google Chrome browser.
2. Click Get Netflix Party for free.
3. You'll be redirected to the Google Chrome web store page to download the extension. Click Add to Chrome.
4. A pop-up box will open. Select Add Extension. You'll now see a grey NP icon in your browser toolbar.
30 minutes prior to the screening time, we will email the Netflix Party link to your registration email. Follow the link, pop some popcorn, and get ready to enjoy a film celebrating Germany's multiculturism from the comfort and safety of your couch or bed! We also encourage you to forward the link to friends and family who may enjoy watching the movie with us as well.
Please note: when registering and asked to "select tickets," type in the number of people you are registering for (i.e, 1, 4, 5), etc.
More information on Netflix Party is available here: https://www.digitaltrends.com/movies/how-to-use-netflix-party/
Please do not hesitate to reach out with any questions at the email below.