Event Calendar
Germanic Language & Dialect Series: Yiddish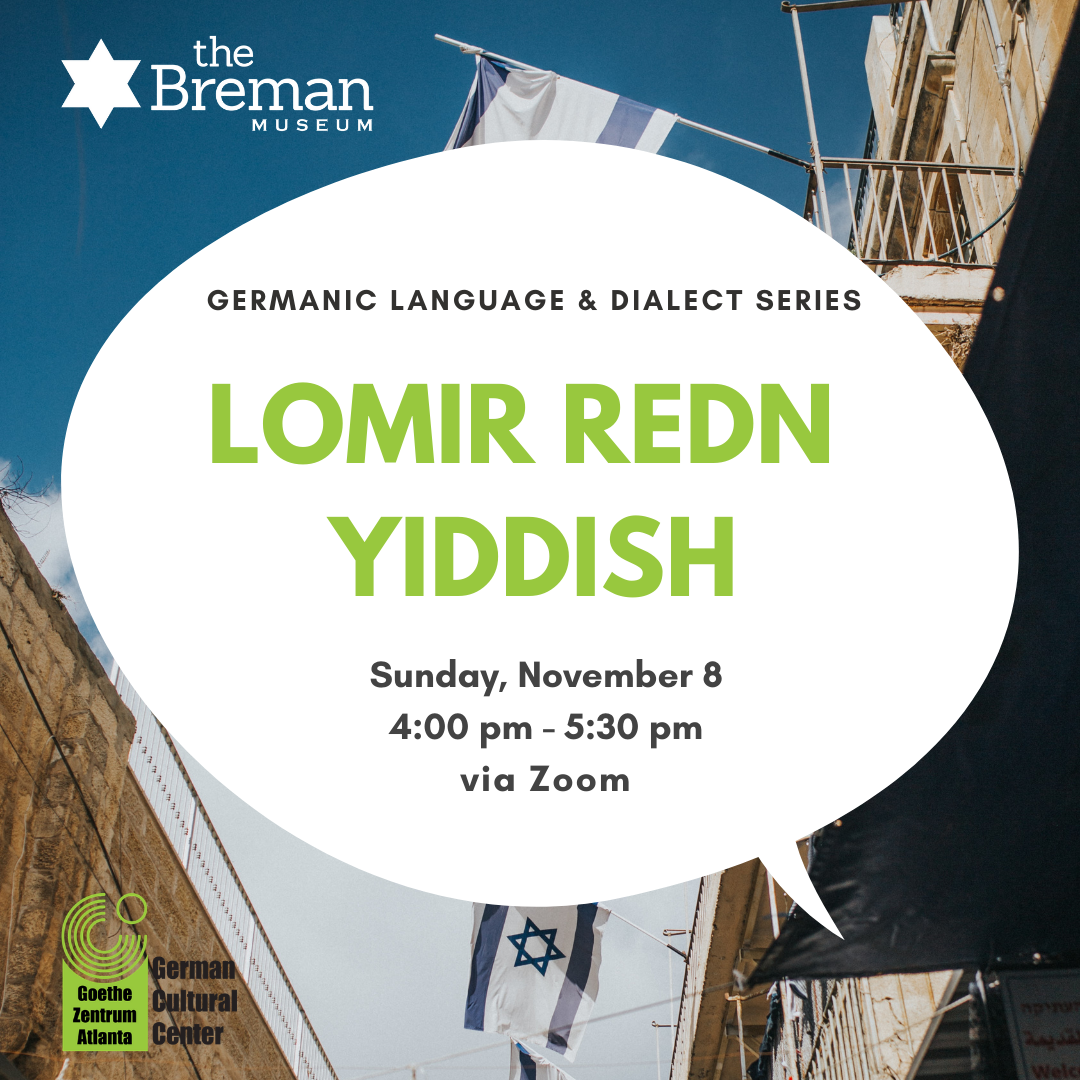 There are numerous dialects of German spoken throughout German-speaking countries, and even within a variety, there can be several other subcategories – not to mention, the languages across the globe which are derived from German and considered to be Germanic. Our Germanic Language & Dialect Series will present derivatives of the standard variety also known as "Hochdeutsch" and highlight Germanic languages. Native speakers and language experts will provide background information, historical context, and numerous examples. It will be a fun, interactive afternoon as each session will explore a new dialect of German or Germanic language.
Join us Sunday, November 8 via Zoom to learn about the Germanic language spoken by the Jewish community around the world: Yiddish! For this event, we're thrilled to be partnering with The William Breman Jewish Heritage Museum in Atlanta. You can learn more about the museum and its programming on its website: https://www.thebreman.org/.
Many Yiddish words have been adopted by other languages globally and you may even realize you've spoken some Yiddish your entire life. Ever called someone a Klutz? Or eaten a delicious bagel? Although there may be much on the surface we are already familiar with, there is also the deeper and tragic history of how Yiddish nearly went extinct during the Holocaust, and that even today it is in danger of being forgotten.
Our incredible host Dr. Liliane Kshensky Baxter will share with participants her experience growing up in a Yiddish-speaking household, the unique linguistics of Yiddish and its connection to German, and highlight the perseverance of Yiddish throughout history.
The virtual event is free to attend, but attendees must register in advance to receive the Zoom login information.
PLEASE NOTE: When registering you will be prompted to select the tickets you wish to order. Please type the number of tickets you wish to reserve (i.e. "1" for just you, "2" for you and a guest, etc).