We have moved and are now the German Cultural Center in Peachtree Center, Downtown Atlanta!
Neuer Ort. Neue Perspektiven. Neue Ziele. 
This summer -
Become a Member We Remember – double your charity impact
with the generous Grant Challenge by The Halle Foundation.
Your Dollar counts twice.
Keine Zauberei.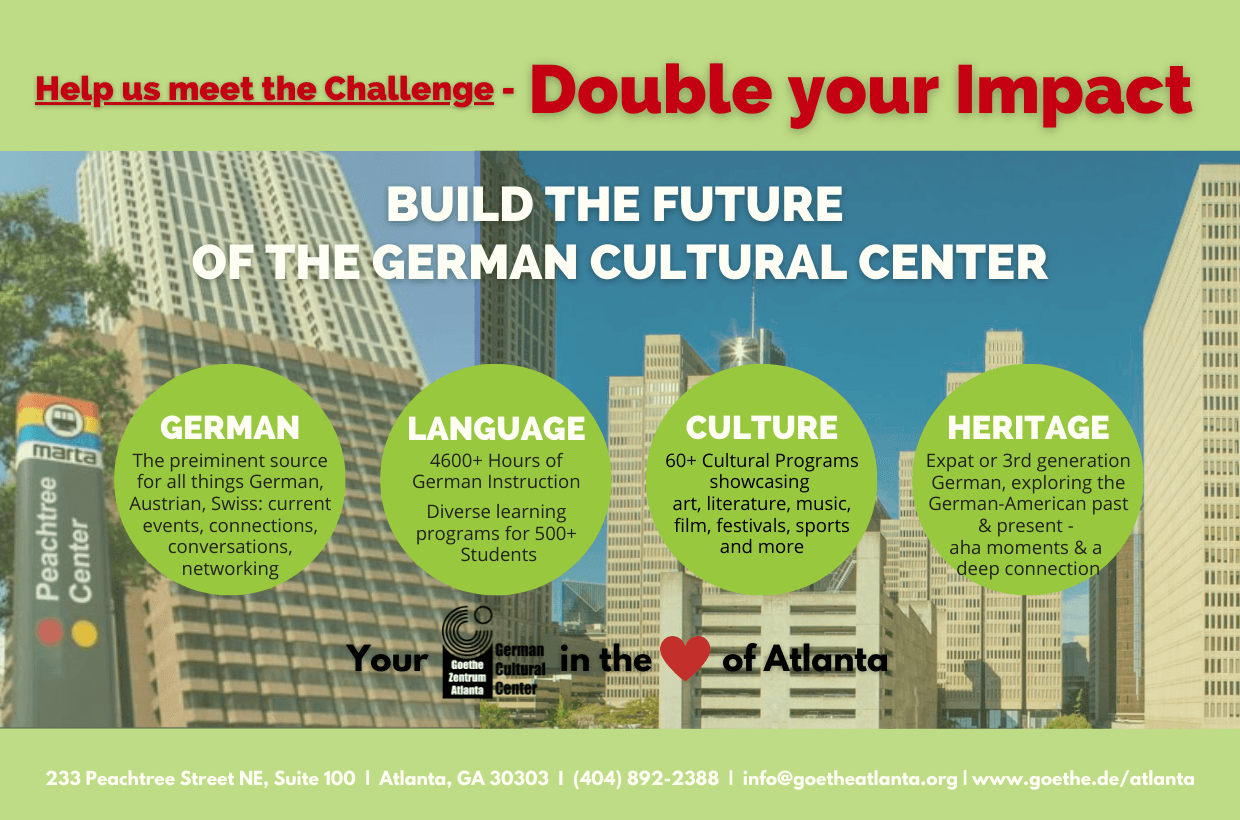 Did you know, the Goethe Zentrum and the Alliance Francaise d'Atlanta share the large, sidewalk level Suite 100 in the 233 Tower?  
Together we are Atlanta's FRANCO-GERMAN CULTURAL CENTER representing a large part of Europe, its languages and diversity.
Even better, we are only 1 of 9 Franco-German centers worldwide and unique to North America, and we are looking forward to exciting language, culture and heritage programming.
The new event space, classrooms and office space in the heart of our community in global ATL is setting a course for even more high-quality exhibitions, discussions, learning, exchanges, celebrations and relationship making. 
---
Our programs and events rely on individuals like you
to support our mission with your donations.
We are an independent not-for-profit and depend on the generosity of people such as you to provide free events and programs, support teacher trainings and build new programs for school-aged children and young professionals all the way to travelers enjoying retirement. 
Help us now to build the space that makes all of this possible!
We need urgent funding for:
modern communication technology and 21st century hybrid technologies (such as smartboards, monitors for virtual courses, IT support, etc.)
furniture and fixtures to fill the large new space (such as for the large event room, outdoor patio, etc.)
investment into satellite programming (such as art and cultural events in Charlotte NC and Miami FL, etc.)
Become A Member We Remember.
Double Your Impact.
Your donations until August 31, 2022, are doubled
through the matching grant by the Halle Foundation.
NOTE: During this time period, your contribution to our growth and outreach is especially recognized: plaques in our Peachtree Center entry hall will recognize donors in the following categories:
$500        $1,000        $2,500        $5,000        $10,000        $25,000
Donating is easy and safe - simply follow the prompts.
Feel free to reach out to us, too, via email director@goetheatlanta.org or at (404) 892-2388.
---
Your tax-deductible donation enables us to present outstanding events featuring guests from the worlds of film, literature, politics, history and entertainment, as well as with exciting film series, concerts, wine tastings, community-wide events and festivals.
Your support also permits us to work with schools and colleges to offer a program unparalleled in quality and diversity to inspire our next generation leaders in business, education, public affairs, culture and more.
$25,000 and above

recognition on the donor wall in our main entrance
VIP event invitations
Recognition in our Board meetings
Plus all benefits below

$10,000 - $24,499

Recognition on the donor wall in our main entrance
Use of Goethe-Zentrum Auditorium for an event
Complimentary half-page promotional feature in annual report
Plus all benefits below

$5,000 - $9,999

Recognition on the donor wall in our main entrance
Complimentary quarter-page promotional feature in annual report
Plus all benefits below

$2,500 - $4,999

Recognition on the donor wall in our main entrance
Plus all benefits below

$1,000 - $2,499

Recognition on the donor wall in our main entrance
Recognition in our annual report
Plus all benefits below

$500 - $999

Recognition on our donor wall in the main entrance
Plus recognition on our website

other < $500

Recognition on our website