Event Calendar
A Note on Opera: Verdi's "Otello"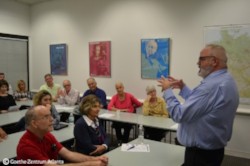 Join us for the latest 'A Note on Opera' lecture as we look at Verdi's "Otello."
Verdi's lifelong adoration of Shakespeare culminated in his 1887 masterpiece "Otello," arguably the greatest of all Italian operas. With the deft touch of librettist Arrigo Boïto, Verdi streamlines Shakespeare's "Othello" to focus laser-like on the evolving tragedy of Otello being manipulated into killing his wife Desdemona.
Verdi staunchly defended Italian operatic traditions - the oath duet, the love duet, the storm scene, the mad scene, and that most Italianate of opera conventions, the pezzo concertato; they're all present in "Otello." Verdi knew, too, that for Italian opera to survive it must constantly evolve, but for him that meant within its 300-year old tradition.
In "Otello," Verdi finally achieves a seamless musical language, without drawing any attention to its Italianate conventions, while incorporating the Austro-German musical tradition to give "Otello's" score a symphonic sweep. In essence, the orchestra itself becomes a character.
Verdi's genius hits you from "Otello's" first thunderous chords until the inevitable conclusion.
To be taught in English by David Kerr
No pre-existing musical knowledge required.
Admission: $20.00 members, $25.00 non-members