Membership
Become a Goethe-Zentrum member - Individual, Family, Legacy, or Corporate level
Access to Early Bird Discount pricing for language courses
Discounted tuition for language courses, individual instruction, and small group instruction for 12 months from date of purchase
Full library privileges
Free or discounted admission to cultural programs and events 
Subscription to our Goethe-Zentrum newsletter
Exclusive Members-Only Notifications
---
Goethe-Zentrum memberships are valid for 12 months from date of purchase. 
Membership fees for individuals and families are not tax-deductible and are not earmarked.
Donor Wall members receive a donation receipt for the tax-deductible portion of their contribution. 
Your membership supports our courses and cultural programs.
*Returning members may also use the following form to renew their membership. Our Membership Coordinator will confirm your information and membership status.
---
Individual Membership
all membership benefits as listed above
Family Membership
benefits for 2 adults + up to 4 minor children or college students below the age of 26 of the same family
all family members receive the membership benefits as outlined above
Legacy Membership
your name will be on the Donor Wall in our new German Cultural Center in Peachtree Center, Downtown Atlanta
membership includes all membership benefits listed above
---
Corporate Membership
Tier 1 Corporate Membership - membership discounts for up to four (4) registered employees
Tier 2 Corporate Membership - membership discounts for up to ten (10) registered employees.
Discounts include reduced membership pricing for your employees' language course registrations and their participation at Goethe events.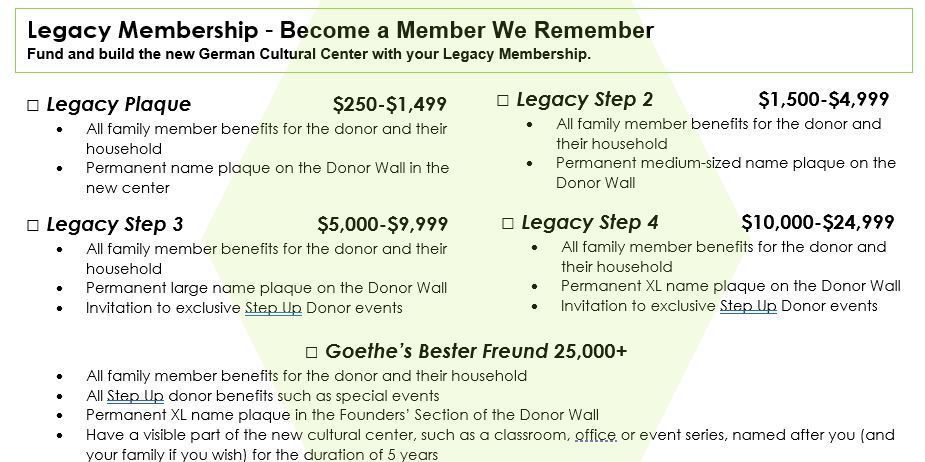 Fill out the form below to become a member!