Fall 2022 German language courses begin September 28. Enroll now!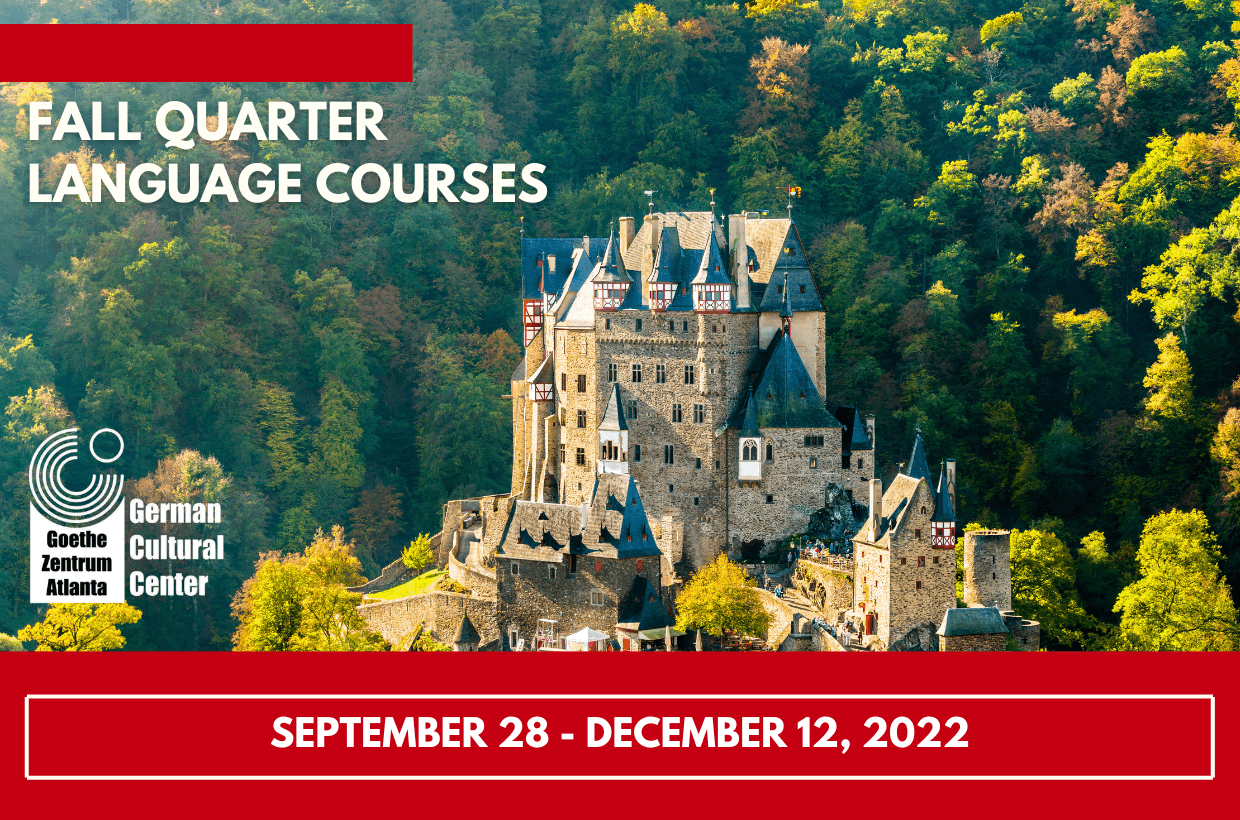 Members are eligible for the membership discount on language courses (12-month membership period). see our membership page
---
Choose a course formats and location that suit your learning style and schedule:
In-person program in Downtown Atlanta and in Roswell. 
Virtual courses for our learners throughout the Southeastern United States.
Intensive Learning options, starting in January and July each year.  
5-week Intensive Course Add-on option as a component of our intensive program, in May and in November each year. This 5-week Add-on class is open to intensive-pace and regular-pace learners who seek review, conversation practice, and exam preparation of the level that they recently completed.
All of the Goethe-Zentrum Atlanta group classes are for adult language learners.
(The minimum age for our group courses is 16 years. For teens younger than age 16 or young people who are not ready to join a group course with learners of all ages, please check out our youth page for our individual instruction and tutoring for ages 12 and up.)
Not sure what course is the right one for you? 
If you are new to the Common European Framework of Reference for language learning, please read our level overview.
We can assist you with a placement test. For details and the contents of each course level, please see the individual course descriptions for all our virtual and in-person courses that outline what themes and contents are taught in each individual course.
If you cannot find the answers to your questions on our website, please contact our Language Program via email at language@goetheatlanta.org.
Note: Our website and registration is optimized for a computer screen (vs. cell phone screen) due to the volume of options and levels we offer. 
---
10-week courses
We offer a variety of courses taught at the regular pace, each with a 10-week duration. A 10-week regular course meets for 25 hours per quarter. These courses include progressive language courses at levels A1 through C1 as well as complementary classes in conversation, grammar, and current events for levels A2 through C2. Buy a membership for 12 months of discounts on classes. To save more money, use the bundle pricing option by adding a conversation, grammar or current events class at your level during the same quarter as your language learning class! 
Our 10-week classes are available in-person in Downtown Atlanta, in-person in Roswell, and virtually. 
-----------------------------------------------
15-week Intensive Courses
Intensive Courses are designed for students desiring to learn at a more advanced pace. Students will complete all four sub-sections of the level at an accelerated pace with concentrated lessons twice per week. Course participants meet for 90 instructional hours over the course of consecutive 15 weeks and we offer them for the A1 and A2 levels. Both courses are offered as synchronous instructor-led virtual classes. We are planning to continue with A1 Intensive and A2 Intensive, and to add a B1 Intensive Class starting in summer 2022.
-----------------------------------------------
5-week Add-on Courses
Our 5-week add-on courses are offered at the end of each Intensive Course for extra review, conversation practice, and exam preparation. They are open to anyone who has recently completed the A1 or A2 level, either in our Intensive Course or in a different class. 2022 courses will be offered in May/June and in November/December.
-----------------------------------------------