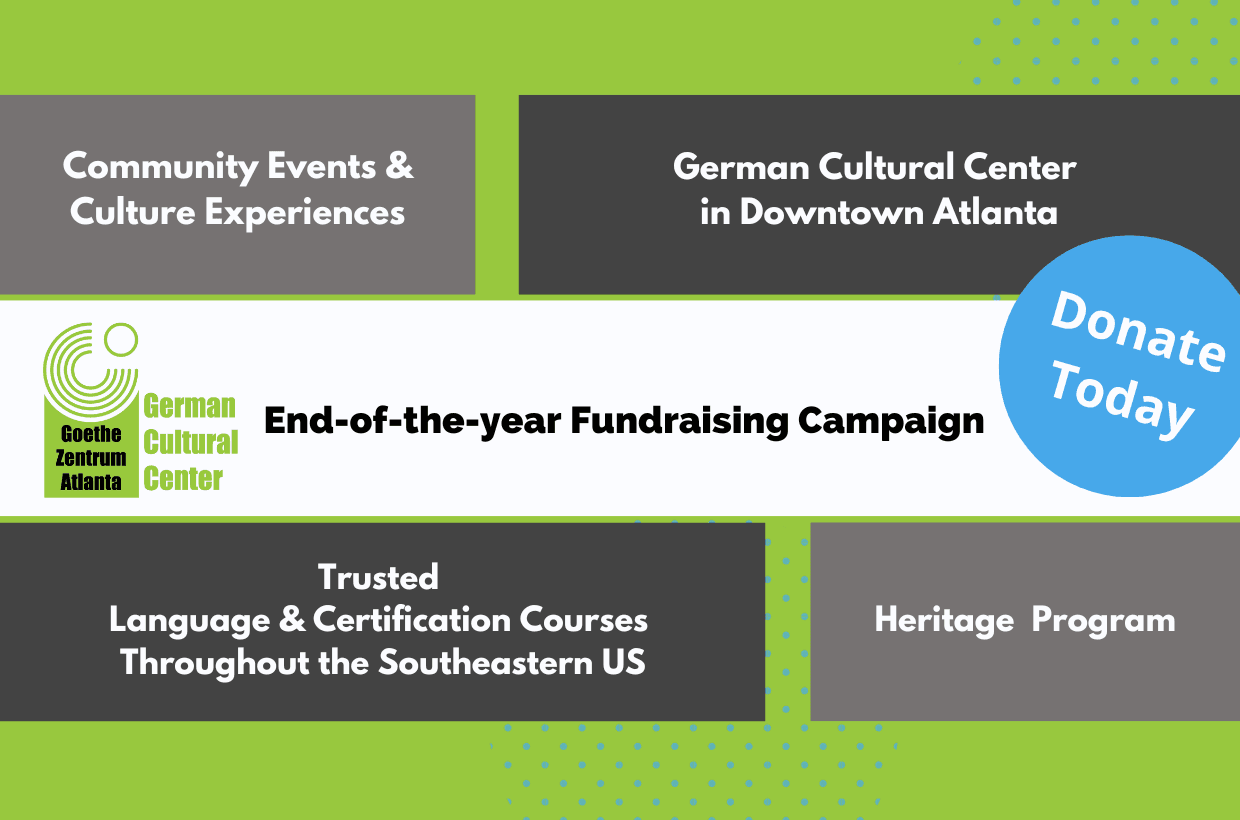 Our programs and events rely on individuals like you 
to support our mission with your donations.
We are an independent nonprofit organization and depend on the generosity of people such as you to provide free events and programs, support teacher trainings and build new programs for school-aged children and young professionals all the way to travelers enjoying retirement. 
Help us now to build the space that makes all of this possible!
We need urgent funding for:
our continued digital transformation to deliver in-person and hybrid courses and events via modern communication technology and 21st century hybrid technologies (such as smartboards, monitors for virtual courses, IT support, etc.) as well as digital business operations capabilities
furniture and fixtures to fill the large new space (such as for the large event room, outdoor patio, etc.)
investment into satellite programming (such as art and cultural events in Charlotte, NC and Miami, FL, and more)
Become a #GOETHEATL Donor and Member today.
Donating is easy and safe - simply follow the prompts.
Feel free to reach out to us, too, via email director@goetheatlanta.org or at (404) 892-2388.
Your tax-deductible donation enables us to present outstanding events featuring guests from the worlds of film, literature, politics, history and entertainment, as well as with exciting film series, concerts, wine tastings, community-wide events and festivals.
Your support also permits us to work with schools and colleges to offer a program unparalleled in quality and diversity to inspire our next generation leaders in business, education, public affairs, culture and more.
New benefits are coming soon.
---
Other giving options are also available. You can support us in the following ways: 
event sponsorship
auction item donation
make a gift of stocks and/or bonds
donate a matching gift through your company
provide an in-kind donation, or
include us in your estate planning
Should you wish to contribute to the Goethe-Zentrum Atlanta in another way not currently listed, please contact us at director@goetheatlanta.org or 404-892-2388.
---
We are currently not accepting book donations. Please consider supporting our programs with a one-time or regular monetary contribution instead.
---
The Goethe-Zentrum Atlanta is a Georgia 501(c)(3) nonprofit organization (EIN: 58-2198618). All donations are tax-deductible to the fullest extent of the law.