Event Calendar
Unity Days Series: The Forgotten Treasure Film Screening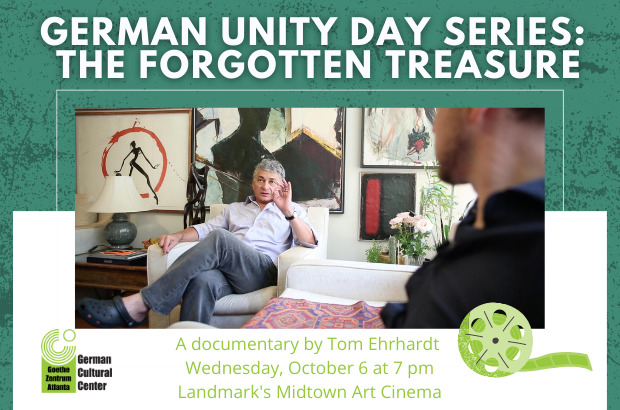 The Goethe-Zentrum Atlanta invites you to celebrate German Unity Day in our two-part event series!
"The Forgotten Treasure" is a documentary directed by Tom Ehrhardt and follows the eccentric art collector and diplomat Chagas Freitas who owns one of the largest private collections of non-figurative art from the GDR; the artist, gallerist and activist Gabi Stötzer; photographer Karin Wieckhorst; painter Gerda Lepke; and Eberhard Göschel, an artist as controversial as he is influential.
The documentary had its festival premiere in 2020 at the "International Festival of Films on Art" (FIFA) in Montreal - which called it "brilliantly directed". It was screened by German broadcaster MDR and presented throughout Germany between Corona lockdowns in a theatre tour. It has been recommended by publications such as Der Spiegel, which called the film "The chronicle of a great passion for art. Sometimes quirky, often touching!"
The film will be screened in German with English subtitles. Following the film, we'll have a virtual Q&A with the director, Tom Erhardt.
Ample free parking is available in the parking lot of Landmark's Midtown Art Cinema.
Tickets are free, but due to the limited capacity at the theatre we ask that you register in advance. Refreshments will be available for purchase at the theatre's concession stand.
Don't miss this exciting look into the forgotten treasure of East German art!