Event Calendar
Climate Crisis and Contemporary Culture: Repair Cafe and Upcycling Student Competition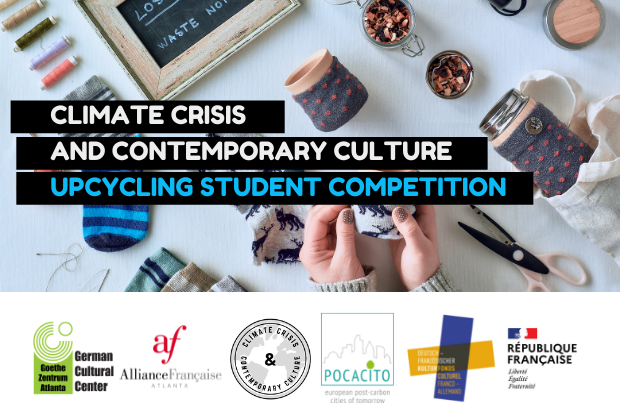 DIY for the environment - Trash to art, decorate with leftovers, turn waste into vintage cool; make schools and homes more beautiful while saving the planet. Upcycling enthusiasts: get wild and creative! Use your engineering skills and creativity for a better world – and get awarded at Georgia Tech.
The Goethe-Zentrum Atlanta, a 501c3 dedicated to promoting the German language and culture in the southeastern United States, along with our partners the Alliance Française of Atlanta and the German and French Consulates of Atlanta, are thrilled to invite students at middle and high schools to take part in our Climate Crisis & Contemporary Culture program this upcoming fall.
The 2021 joint cultural programming "Climate Culture & Contemporary Culture" seeks to explore the diverse means by which we communicate on our current climate crisis. The Climate Crisis & Contemporary Culture event series will bring different voices to a common table, inviting researchers, experts, artists, and performers to discuss, debate, and explore the communicative challenges relating to our planet's climate challenges.
Specially designed for middle and high school students is an upcycling competition in which students of all backgrounds can "reuse discarded objects or material in such a way as to create a product of higher quality or value than the original." The winners of the Upcycling School Contest will be recognized as future savers of the planet and awarded prizes for their sustainable creativity.
Below you will find the competition flyer and rubric with further information on the competition and the submission deadline as well as a link to supplementary resources.
https://tinyurl.com/upcyclingflyer
https://tinyurl.com/upcyclingrubric
https://linktr.ee/climatecrisisupcycling
Submit your project via the form before November 1 at 11:59 pm: https://forms.office.com/r/RnE3xYXzAT
Viel Erfolg und wir freuen uns auf Ihre Projekte!