Event Calendar
Member Benefit Event - Atlanta Symphony Orchestra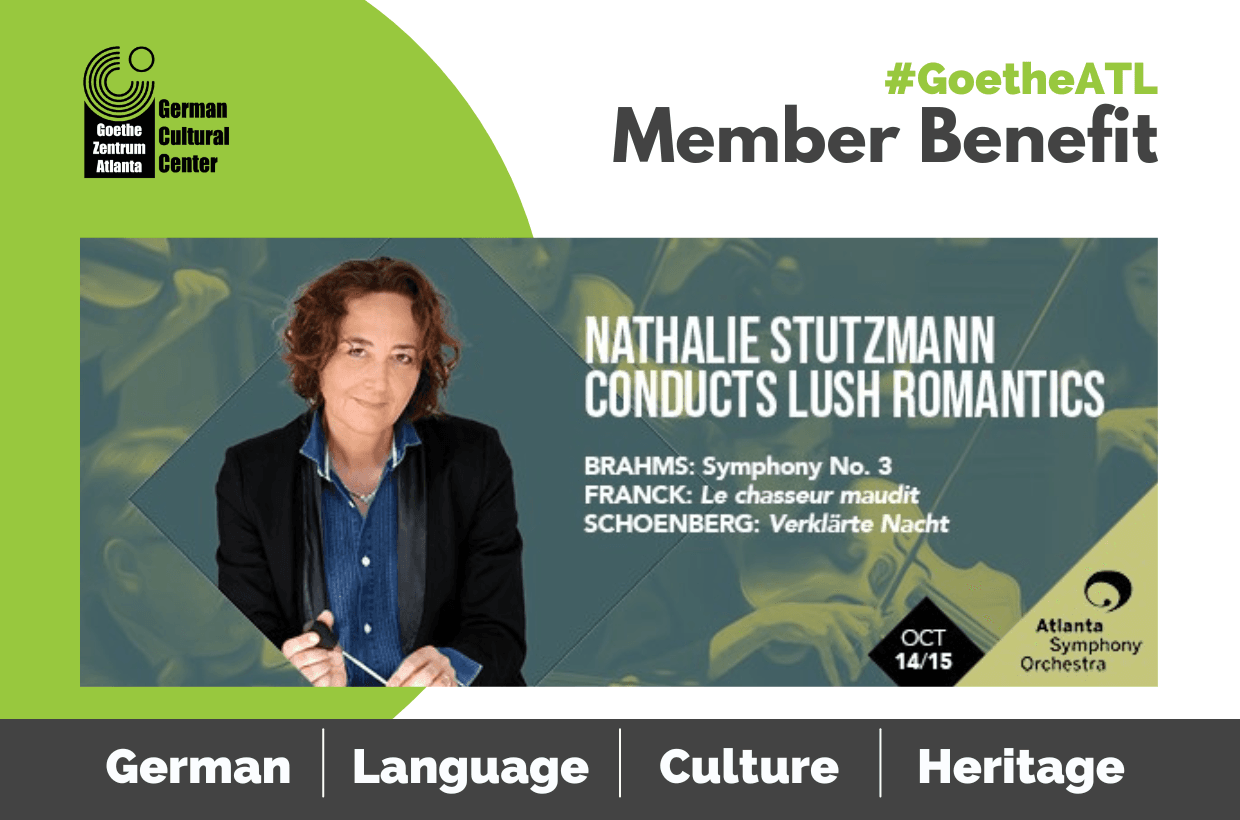 We are excited to bring another member benefit opportunity to enjoy the Atlanta Symphony Orchestra:
The new music director for the 2022/2023 season Nathalie Stutzmann is directing "LUSH ROMANTICS":
- Brahms
- Franck
- Schönberg
Experience the velvety rich sound of the Atlanta Symphony Orchestra as Music Director Nathalie Stutzmann presents a lineup of lush Romantics. Starting with Brahms' stormy Symphony No. 3, Maestro Stutzmann draws out the Hungarian-laced sonorities of the great Viennese master followed by the soul-stirring symphonic poem Verklärte Nacht (Transfigured Night) by Arnold Schoenberg. The concert concludes with César Franck's Le chasseur maudit.
Ticket prices includes post-concert reception and an opportunity to meet ASO's new musical director.
This Event is open to ALL!
Current Goethe Members - $50 / ticket (Please use the link provided in our last email newsletter.)
Non-Members - $65 / ticket (Please use the link below.)
NOTE:
the same link will allow you to also purchase tickets to our next ASO member benefit concert on January 26, 2023:
"Brahms - A German Requiem" at the same time.
For more information on that event please visit the specific event page. Link below.
Nathalie Stutzmann and Atlanta Symphony Orchestra are featured in ...
AJC - "Q&A: Nathalie Stutzmann on barriers, becoming ASO music director"
NY Times - "Nathalie Stutzmann Ushers In a New Era at the Atlanta Symphony"
Links to the articles are below.