Event Calendar
60 years French-German Friendship Celebration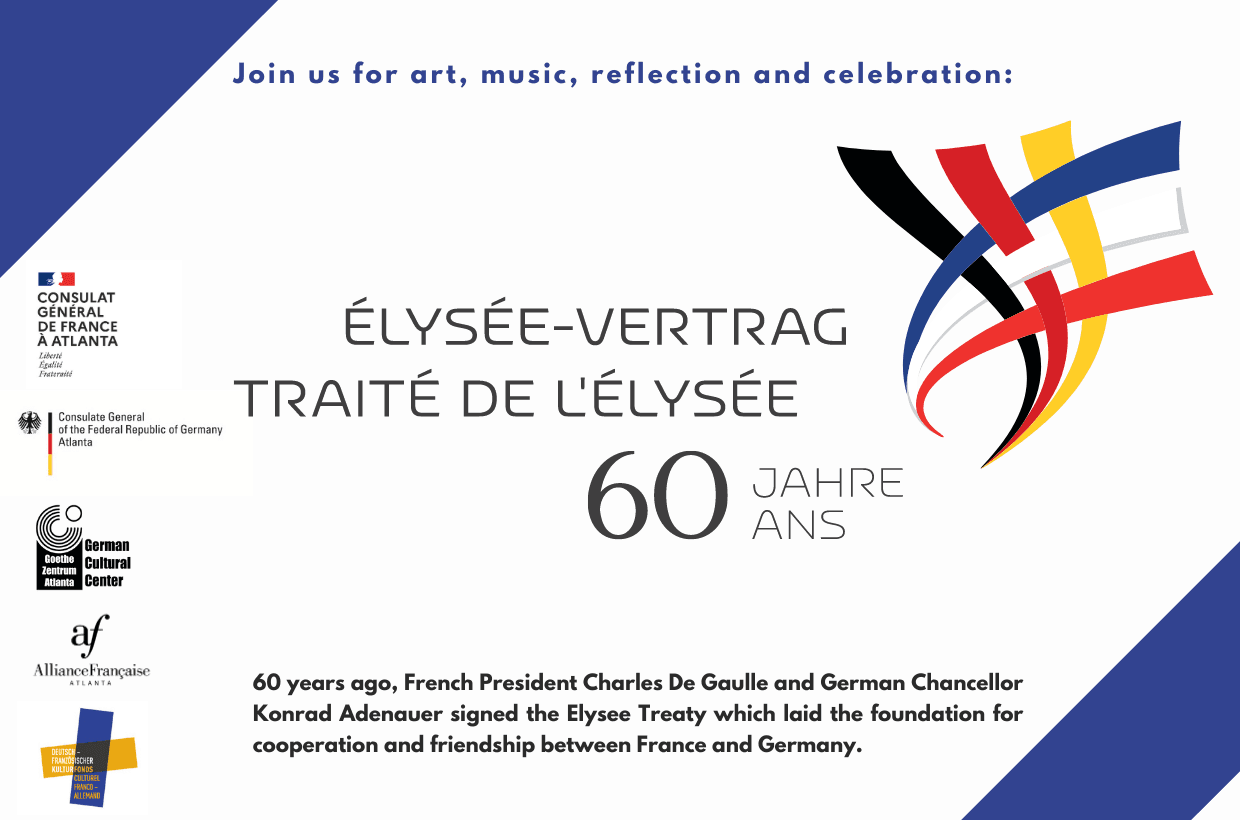 On January 22 the French-German friendship thanks to the Elysee Treaty of 1963 turned 60!
Together with the Alliance Francaise and the German and French Consuls General of Atlanta we are celebrating this anniversary at our office space in Peachtree Center and Atlanta's Franco-German Cultural Center.
- Reflections on peace in Europe and the World by the Consuls General
- Unveiling of a special German-French-American Friendship art work by Consul General Melanie Moltmann
- German and French Classical Guitar concert with Luther Enloe and Grammy-winning tenor Richard Clement
ABOUT THE ARTWORK:
The BUDDY BEAR is a worldwide tourist attraction inspired by the mascot of the bear of the German capital city Berlin.
Hundreds of cities around the globe are hosting a Buddy Bear or more. Atlanta is about to have a Buddy Bear as well thanks to the support of the German Consulate General.
Take a look at the unique design by Atlanta-based artist Rebecca Shenfeld:
the Buddy Bear express the friendship between Germany, France, and Atlanta, incorporating Atlanta's German and French sister cities Nuremberg and Toulouse.
ABOUT THE CONCERT:
Classical guitarist Luther Enloe and Grammy-winning tenor Richard Clement present a concert tailor-cut for the 60th anniversary of the Elysée Peace Treaty:
French and German culture and musical styles have made significant contributions to guitar music. This program will feature music by French and German composers from various periods, in addition to examples of how such composers influenced musicians from other nationalities. The event will consist of chamber music and solo literature with brief explanations of how France and/or Germany contributed to the music's development and style.
With music by Francis Poulenc, J.S. Bach, Franz Schubert, and Hector Berlioz as well as Hungarian composer J.K. Mertz, Fernando Sor from Spain, and Brazilian composer Heitor Villa-Lobos, showcasing both German and French influences, showing the international nature of music in general and its intertwining with various national cultures.
For the full PROGRAM and to READ MORE about the MUSIC, and the ARTISTS follow the link "Guitar Concert Details" below.
PLEASE REGISTER to let us know you are coming:
Admission:
$20 for non-members
$15 for GZ-ATL or AF-ATL members
DID YOU KNOW -
We are now an official "Kultur Ensemble"!
1 of 9 world-wide and the only one in North America, we, Goethe-Zentrum and the Alliance Francaise d'Atlanta, together the Franco-German Cultural Center in Atlanta, are representing France and Germany, French and German language, culture, heritage and partnership.
Look for additional information on this special status and honor.