Event Calendar
Frühlingsfest - Celebrate Spring with us in Avondale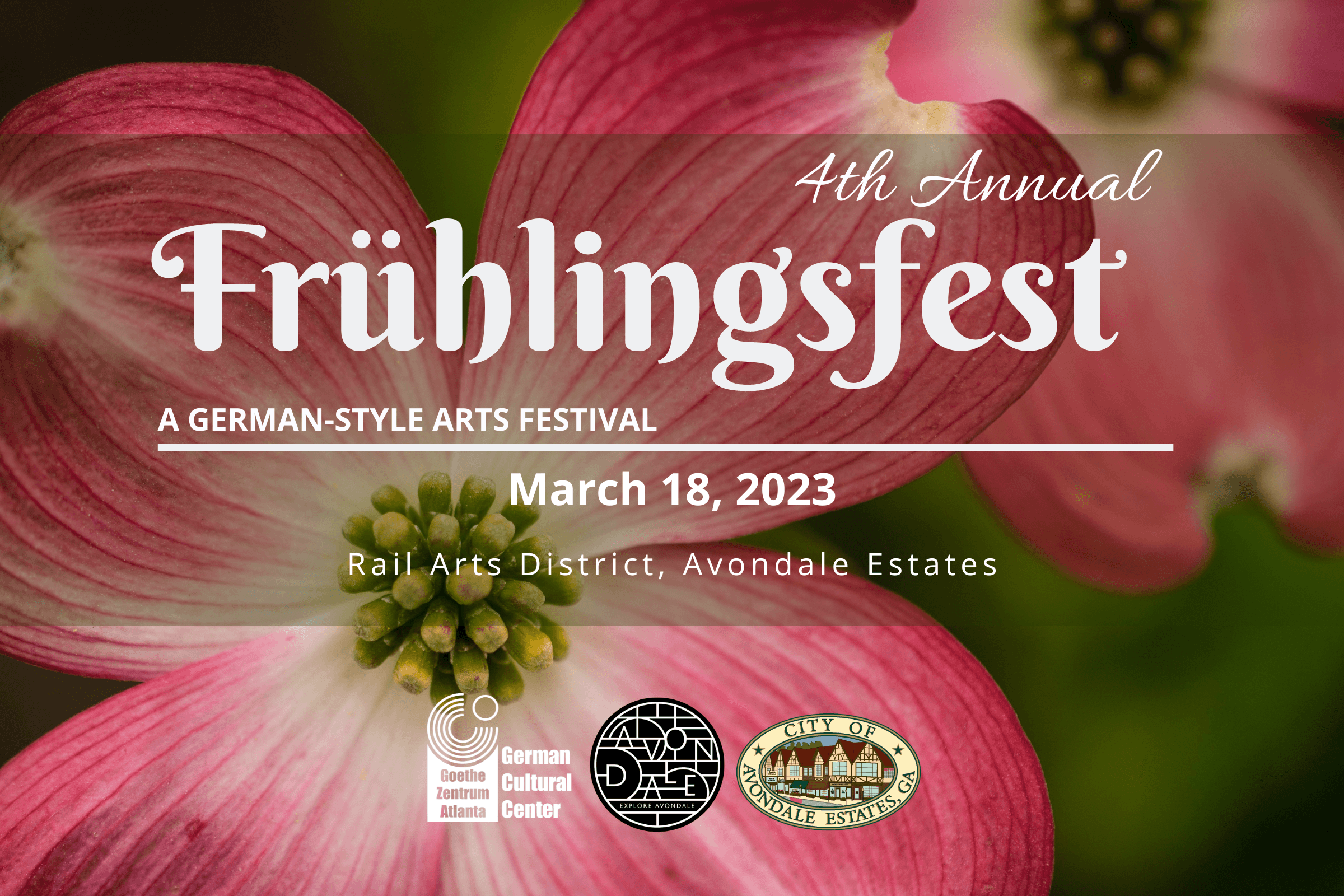 FRÜHLINGSFEST -
Atlanta's iconic German-style arts festival in the Avondale's Rail Art District, and hosted in partnership with the City of Avondale Estates, is returning in-person on March 18, 2023!
The German word, "Frühlingsfest", means "spring festival". An annual family-friendly celebration of the spring season, Frühlingsfest takes place in cities all over Germany, such as München and Stuttgart. With over 1.2 million participants each year, Frühlingsfest makes its name as the largest spring festival in Europe.
At our Avondale Estates Frühlingsfest, expect to enjoy
- more than 80 artist vendors
- 20+ food vendors selling German and American items
- 3 (resident) micro-breweries featuring German-style draft beers
- live music
- children's activities
- classic and new German automobiles
Additionally, for the first time, there will be a Rattenfänger / Pied Piper parade and opportunities for all to learn more about the Germanic culture and language!
Stay for the concert with "Grits & Jellybutter" between 6:00-8:00 PM!
$15 festival wristband
The wristband qualifies 21-year and up attendees to purchase alcoholic beverages. Please enjoy responsibly.
(The Goethe-Zentrum is a registered nonprofit, see details below. Revenue from the sale of wristbands covers the cost of organizing grand community events such as this and allows us to provide similar events in the Atlanta area throughout the year. Thank You!)
The Goethe Frühlingsfest is located in the arts district of downtown Avondale Estates, Georgia, where a sparkling art scene is at home, and where three breweries provide some of the finest German-inspired beer this side of the Atlantic.
Come VOLUNTEER
All volunteers receive a free tshirt and free wristband (required for 21 and up to purchase beer etc.)
Sign up for one or more shift through the VOLUNTEER signup genius (link below).
Our volunteer coordinator will contact you to discuss details.
THANK YOU for supporting the Goethe-Zentrum and our community-wide events!
CAR LOVERS -
Do you have a klassik German car, a work of art? Take part in Art on Wheels at our Frühlingsfest and showcase your vehicle.
All cars must be considered "classic" (25+ years old/pre-1998) and be a German car brand (Audi, Volkswagen, Mercedes, Porsche) and in good condition.
Register your vehicle through the Frühlingsfest website (link below) or directly through this form:
https://docs.google.com/forms/d/e/1FAIpQLSfG01jNPOADxUGSKZvGQIjfBbn9BVRQZ7h_L2o6ypv4cVatVA/viewform
receive
- one free t-shirt
- one free wristband (for 21 and up)
- one free beer & pretzel voucher (1 beer and 1 pretzel)
For any questions, please contact Cassidy at cassidy.chreene@goetheatlanta.org or Brent at 404-643-0669.
#goethefruehlingsfest
"Friends of Goethe, Inc., doing business as Goethe-Zentrum Atlanta, is a federally tax exempt charitable 501(c)(3) nonprofit organization
(EIN: 58-2198618). As a U.S. 501(c)(3) corporation, our cultural programs, outreach, and mission rely on grants, donations, sponsorships, and your membership contributions. Contributions are tax-deductible. Goethe-Zentrum Atlanta is a German language course and exam provider fully accredited by the Goethe-Institut."