Event Calendar
CONCERT: L.I.T. - Lost in Translation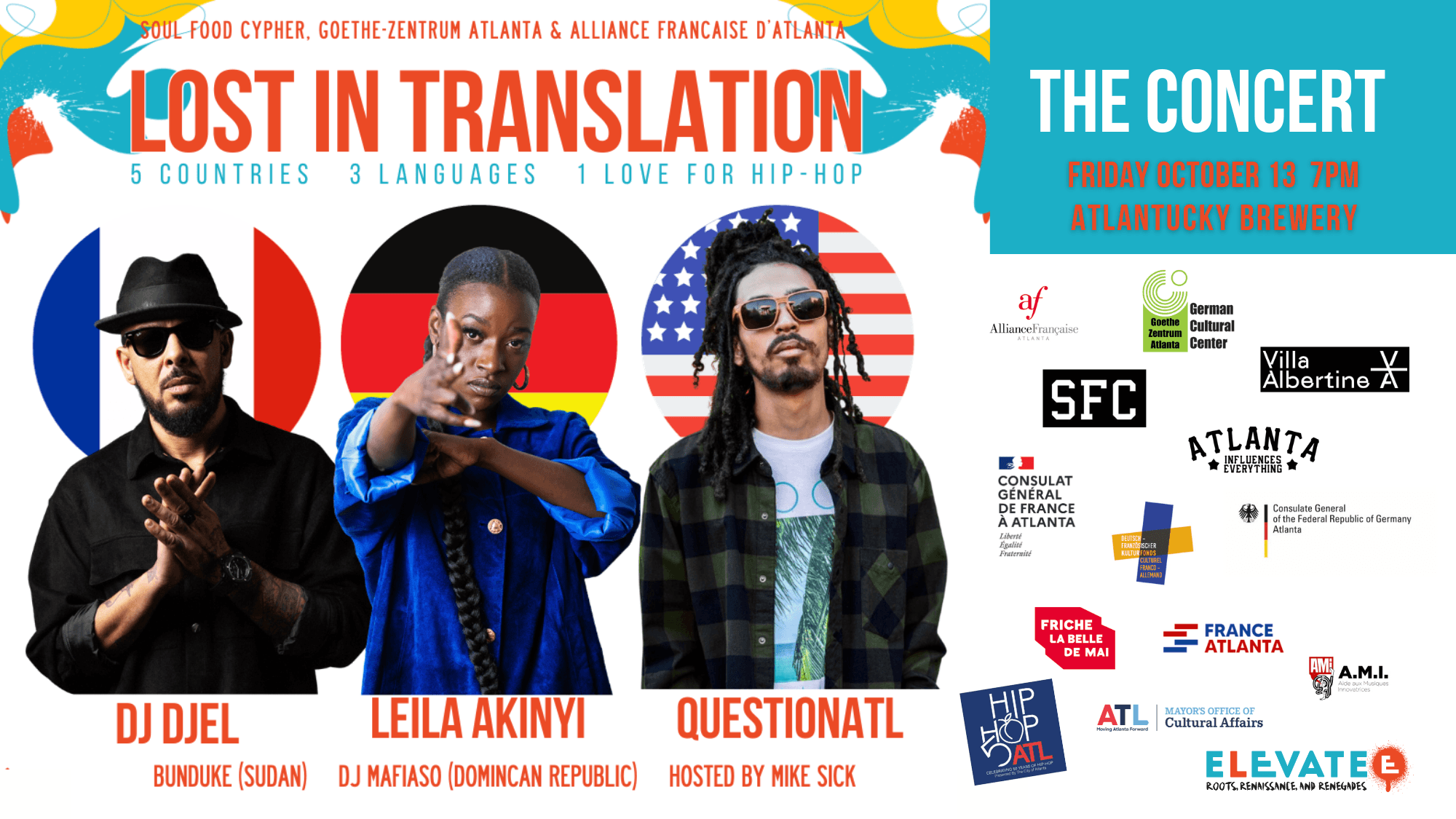 Atlanta is celebrating 50 years of Hip Hop!
"You never thought that hip-hop would take it this far" - Notorious BIG
The Goethe-Zentrum, the Alliance Francaise, the Villa Albertine, the Consulates of Germany and France in Atlanta, and the City of Atlanta "ELEVATE" invite to a 1 OF A KIND EXPERIENCE:
DJ and Rap artists from Marseille and Cologne in concert together with artists from Atlanta!
LOST IN TRANSLATION: THE CONCERT - RAP AROUND THE WORLD
featuring
Hip Hop artist Leila Akinyi, from Cologne, Germany
DJ Djel, from Marseille, France
Atlanta's own Soul Food Cypher
This ELEVATE featured event explores the global reach of Rap Music and the diverse soundscapes that have organically grown internationally under one roof. Sponsored by and in partnership with Goethe-Zentrum Atlanta, Alliance Française d'Atlanta, Villa Albertine, and the Franco-German Cultural Fond, this intercultural "exchange" brings together artists from around the world and within Hip-Hop Culture to explore what exists and moves us beyond the beats and rhymes.
Powered by Atlanta's Freestyle Cypher, Soul Food Cypher, this event captures what persists above the limitations of language, latitude and longitude.
_______________________________________________________
7:00p - Doors Open | Open Cypher & Instrumentals (Rappers welcome!)
7:30p - Opening Artist | @bunduke_ (@SoulFoodCypher) (South Sudan)
7:45p - DJ @djmafioso (Dominican Republic)
8:15p - First Act: @questionATL (USA)
8:35p - Second Act: @leila_akinyi (Germany)
8:55p - Third Act: DJ & Producer @djdjel (France)
9:15p - L.I.T. resident artists perform together for the first time on one stage
9:30p - Open Cypher with Beats by @djdjel and @questionATL
________________________________________________________
THE EVENT IS FREE.
________________________________________________________
"Hip is to know, it's a form of intelligence. To be hip is to be update and relevant. Hop is a form of movement, you can't just observe a hop, you gotta hop up and do it. Hip and hop is more than music. Hip is the Knowledge, hop is the Movement. Hip and Hop is Intelligent movement." - KRS ONE