Event Calendar
DER MARKT - COME TOGÄTHER at the Market of the German-speaking countries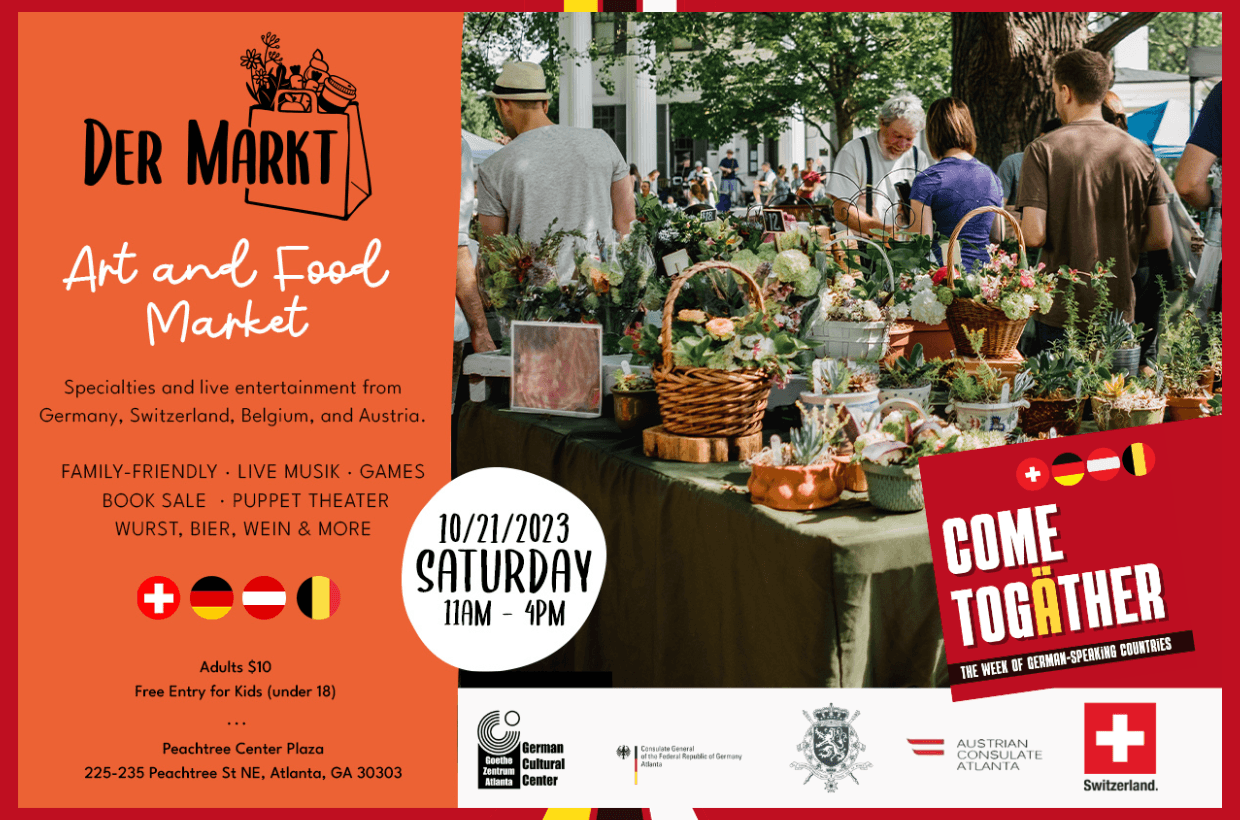 Come join us Saturday, October 21st from 11:00am to 4:00 pm for DER MARKT,
the new annual market at Peachtree Center Plaza in the heart of Atlanta.
Enjoy delicious specialties, beautiful art, and live entertainment from the German-speaking countries of Germany, Switzerland, Belgium, and Austria.
DER MARKT is the kick-off event for COME TOGÄTHER - The week of German-speaking countries, organized by the Consulates General of Switzerland, Germany, and Belgium in collaboration with Goethe-Zentrum Atlanta, the German Cultural Center of Atlanta since 1977.
DER MARKT will be held outside the doors of Goethe-Zentrum Atlanta at the plaza of Peachtree Center, Downtown Atlanta. Come try authentic German fare from our friends at Der Biergarten. Vendors will offer hand-made jewelry, leather goods, candles, photography, German grocery goods, homemade Swiss bread, craft chocolates, upcycled and recycled home and garden art, hand crafted baskets, and authentic German garden and beach chairs.
DER MARKT is for the whole family. Meet the German speaking Consulate representatives in Atlanta, shop for German books at the Goethe-Zentrum of Atlanta book sale, experience our amazing music and theatrical line up.
Live Entertainment:
12:15 pm "Kiepenkasper" with renowned Puppeteer Uwe Spillmann [sponsored by Consulate General of Germany]
12:30 pm "Bundesliga Watchparty": Mainz vs. Bayern Munich
01:00 pm Singer/Songwriter Andrea Benz – Country music with English and - for DER MARKT only - Swiss German lyrics [sponsored by Consulate General of Switzerland)
02:15pm "Kiepenkasper" with renowned Puppeteer Uwe Spillmann
2:30 pm Opening of the photo exhibition "Menschen aus Ostbelgien" (German minority in Belgium).by Ashley Joanna. Welcome address: Consul General of Belgium, Michel Gerebtzoff
03:00 pm Stefan Bauer Band – German and Austrian hits – sponsored by Goethe-Zentrum Atlanta
Step inside the doors of Goethe-Zentrum Atlanta for a coffee, a German Kölschbier vom Fass, a glass of Swiss wine, or one of Belgium's many amazing bottle beers.
While you're inside our Franco-German Cultural Center, take in our temporary photography exhibition on loan from the [official Belgian Consulate info and logo]. This intriguing collection depicts life from the minority German speaking population of Belgium.
There will be a $10 donation coverage charge for adults 18+. Children are free.
The donation includes free coffee, free ice-cream, free water, free photo exhibition.
Buy your ticket for the Schlagerparty at the same time and save $5.
*** LIVE ENTERTAINMENT ***
Andrea Benz -
is unlike any other artists. With captivating guitar skills, a beautiful clear country voice, and genius songwriting, Andrea's fans call her a "triple threat." Hailing from the beautiful country of Switzerland, the rising singer/songwriter's roots are seated deeply in country music, her voice reminiscent of the 90ies country stars. Andrea´s guitar craftsmanship can be heard and seen on countless country performances and recordings around the world.
*** KASPERLTHEATER ***
Famous German "Kiepenkasper" Puppeteer Uwe Spillmann takes you on a "Journey to Pirate Island", and
help him escape the mean witch's spell in "Three Magic Feathers."
German puppeteer Uwe Spillmann (aka Kiepenkasper) has been bringing the joy and laughter of fairy tales to the young and young-at-heart all over the world for many years and we are excited to welcome him for two performances.
+++ A "COME TOGÄTHER - Week of the German-speaking countries" Event +++